On Tuesday, May 5, Argenis Vázquez, Secretary of the Toyota union SINTRATOYOTA, was murdered as he was leaving his home in Los Chaimas de Cumaná; in the state of Sucre, to attend a scheduled meeting at Toyota headquarters.
Accounts indicate that Vázquez was assassinated by two motorized hitmen, who shot without engaging in any type of conversation with the union leader.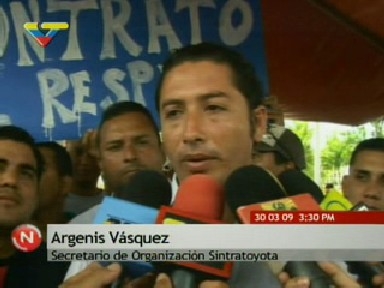 As Corriente Marxista Revolucionaria, we would like to repudiate this act of violence against a union leader who so arduously fought against Toyota's denial of labor demands. We would also like to call for public awareness, given the recent assassinations of Richard Gallardo, Luis Hernandez and Carlos Requena in the city of Maracay, crimes whose perpetrators have not yet been legally recognized; and demand attention towards the deaths of two workers participating in a similar struggle against Mitsubishi (a Mitsubishi and a Maracusa employee respectively) and fourteen additional workers wounded by the Anzoategui police.
Amidst this current crisis of the capitalist system, corporations are engaging in a vast number of tactics aimed at letting the workers pay for the crisis. We saw this in the struggles of industrial workers at Vivex, Mitsubishi, and more recently Toyota. Automotive companies are increasing the outsourcing of labor through contractors and cooperatives. We, the employees cannot accept these measures, for what we need is a real working class approach in the trade unions.
The global recession will undoubtedly soon hit Venezuelan assembly and automotive companies. The struggle led by the workers of Vivex, Mitsubishi, and Toyota will pave the way to the rest of the Venezuelan working class. We must all fight for the nationalization of our automotive companies in order to ensure the stability of our jobs. Comrade Argenis Vázquez fought for this cause.
Today, all workers must unite not only for the purpose of reinvigorating previous struggles, but also for fight for the seizure of political power by the working class.
As Corriente Marxista Revolucionaria and PSUV militants, we would like to state that comrade Argenis Vázquez will not be forgotten, and that workers from the automotive industry will continue to be at the vanguard of the socialist revolution.
Translated by Sociéte Bolivarienne du Québec / Hands Off Venezuela Montreal