At a recent meeting of the Vancouver and District Labour Council the resolution below was debated. After a brief discussion the resolution was passed unanimously by the delegates to the Labour Council. This is an important victory for the Hands Off Venezuela campaign ahead of the Western Canada Conference this weekend. The Vancouver and District Labour Council has historically been behind every progressive movement in the city. Their support for the Bolivarian Revolution and the government of Hugo Chavez will go a long way to help educate workers about events unfolding in Venezuela.
HOV is proud to welcome them to the campaign!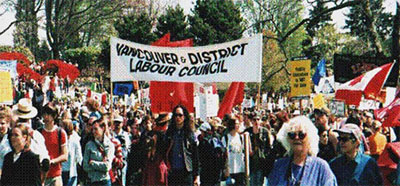 Resolution
BECAUSE Venezuela is playing a key role in the struggle for national sovereignty and control of natural resources in South America; and
BECAUSE President Hugo Chavez may well be the most democratically elected leader in the world having won no less than nine electoral contests during the past six years; and
BECAUSE the United States has chosen to treat the legitimate national aspirations of the people of Venezuela as a threat and the country of Venezuela as an enemy; and
BECAUSE there is an international campaign in support of Venezuela called "Hands Off Venezuela" which is supported by the Ontario Federation of Labour, Alberta Federation of Labour and Labour Councils across the country.
THE VANCOUVER & DISTRICT LABOUR COUNCIL WILL endorse and support the "Hands Off Venezuela" campaign.