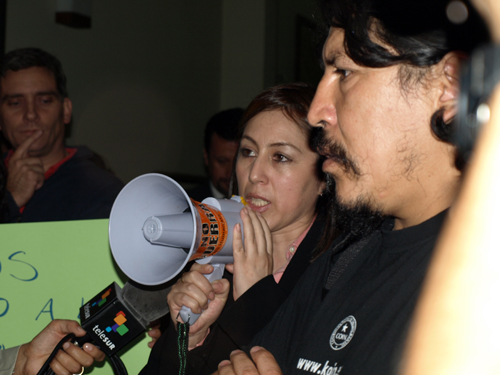 About 100 people gathered on Monday, September 22, in front of the Bolivian embassy in Madrid, Spain, to show their opposition to the ongoing coup against the government of Evo Morales. They also denounced the assassination and disappearance of dozens of peasants by the fascist groups that are promoted by imperialism and the oligarchy.
The solidarity rally had been called by a number of organisations,  including Hands off Venezuela. Amongst the slogans shouted were "Alerta que camina, la espada de Bolívar por América Latina" and "Hands Off Bolivia and Venezuela".
At the end of the rally the Bolivian ambassador, María del Carmen Almendras Camargo addressed those present, thanking them for their solidarity. She was given a copy of the statement by a comrade from Hands Off Venezuela and met briefly with the organisers after the rally.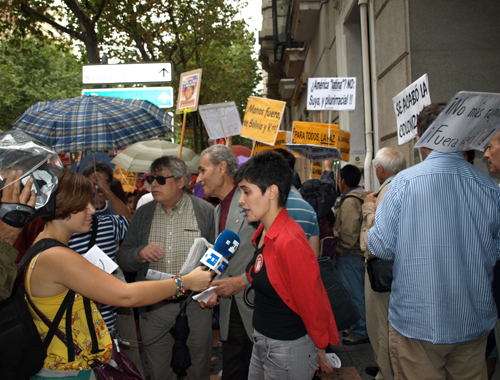 This successful rally followed the one that took place in Barcelona on Friday, September 19th, which Hands Off Venezuela also helped to organise. Monica Vargas, in the name of the organisers, read a solidarity message denouncing the genocidal character of the Bolivian oligarchy. She said that the oligarchy is prepared to use all means at their disposal, including the killing of unarmed peasants in Pando, in order to preserve its privileges.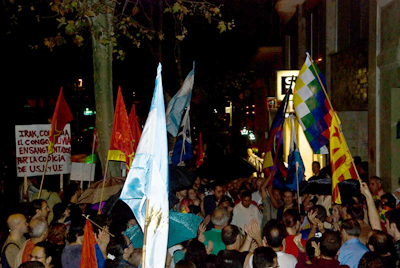 It is the same oligarchy that supported the military dictatorships in the past and then the corrupt neo-liberal governments, which is now, with the support of the United States, arming the fascist gangs of the Union Juvenil Cruceñista, attacking the democratically elected government of Evo Morales, and the Bolivian people in general.
The Bolivian ambassador, who had come from Madrid to attend the rally, received the letter of support and thanked all those present for their support in the name of the people and the government of Bolivia. The Consul General of the Boliviarian Republic of Venezuela in Barcelona, Belén Rojas, also addressed the rally. 
See more pictures from the Madrid picket on Picasa .