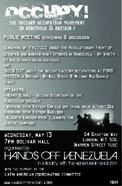 PUBLIC MEETING
BOLIVAR HALL LONDON
WED 13th MAY 7pm
Hands Off Venezuela Presents
OCCUPY!
Documentary screenings & discussion about the factory occupation movement in Venezuela and in Britain!

FREE       JOIN US!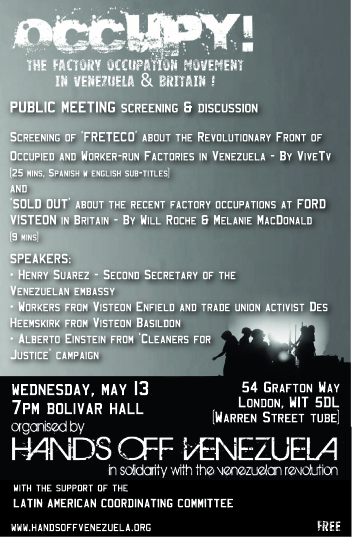 PUBLIC MEETING
BOLIVAR HALL LONDON
WED 13th MAY 7pm
Hands Off Venezuela Presents
OCCUPY!
Documentary screenings & discussion
FRETECO (25mins)
A new documentary about the factory occupation
movement in Venezuela.
By Venezuela's ViveTV
SOLD OUT (10mins)
Short documentary about the recent occupied
Ford Visteon factories here in Britain.
By Will Roche & Mel MacDonald
makers of No Volveran
SPEAKERS
• Henry Suarez – Venezuelan Embassy
• Ray Dixon – Visteon Enfield
• Des Heemskirk – Visteon Basildon
• Alberto Einstein – Justice For Cleaners campaign
FREE       JOIN US!
Bolivar Hall
54 Grafton Way, London, W1T 5DL
2 mins from Warren Street Tube (Victoria & Northern Line)
(Turn right out of station, walk down Tottenham Court Rd,
take second right, a few doors down on right hand side)
www.handsoffvenezuela.org
with the support of the Coordinadora Latino Americana