An emergency picket of the Colombian Embassy in London today called for an end to the state policy of genocide towards trade unionists, indigenous people and the social movement. The picket was in specific solidarity with the cane cutters, striking public sector unions and the indigenous Minga, and demanded an end to Uribe's state of emergency.
The Polo Democratico UK and Colombia Solidarity Campaign organised the event at short notice, and were joined by the Solidarity Federation, the Latin American Workers Association and Hands Off Venezuela.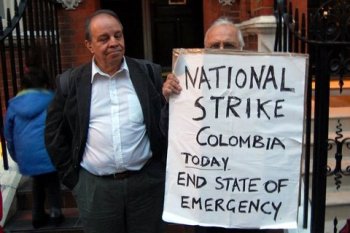 Members of the Polo and the international network of groups like the Campaign are themselves now targeted both by Uribe and the paramilitary Black Eagles. We pledge to escalate support for all social sectors oppressed by Uribe's regime.   
London 23 October 2008
Polo Democratico U.K. email: This email address is being protected from spambots. You need JavaScript enabled to view it.
Colombia Solidarity Campaign  email: This email address is being protected from spambots. You need JavaScript enabled to view it.
¡No al Genocidio en Colombia! Piquete de Londres el 23 de octubre, 2.008
Un piquete de emergencia frente a la Embajada Colombiana en Londres exigió hoy que se terminara la política estatal de genocidio hacia sindicalistas y pueblos indígenas, igualmente que hacia los movimientos sociales Colombianos.
El piquete demostró su solidaridad específicamente con los corteros de caña, los sindicalistas de todo el sector público en paro hoy día y la Minga indígena, y exigió que se termine el Estado de Conmoción Interior.  El evento, fue organizado por El Polo Democrático Alternativo del Reino Unido y la Campaña de Solidaridad por Colombia. También acudieron al piquete la Federación de Solidaridad, La Asociación de Trabajadores Latinoamericanos y Manos Afuera de Venezuela.
Los afiliados del Polo y la red internacional de grupos como la Campaña de Solidaridad con Colombia, son ya objetivos de acosos y amenazas provenientes del gobierno de Uribe y del grupo paramilitar denominado "Águilas Negras". Prometemos escalar el apoyo a todos los sectores sociales oprimidos por el régimen de Uribe.
Londres, 23 de octubre 2008
Polo Democratico U.K. email: This email address is being protected from spambots. You need JavaScript enabled to view it.
Colombia Solidarity Campaign  email: This email address is being protected from spambots. You need JavaScript enabled to view it.