Documentaries
From the makers of the Hands Off Venezuela film '
Solidarity
', and the Sanitarios Maracay short film series, comes 'No Volverán - The Venezuelan Revolution Now', a new exciting feature length documentary about the Venezuelan Revolution. Click
here
more information or to purchase this DVD.
Click here to purchase this DVD.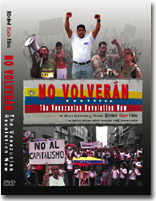 From the makers of the Hands Off Venezuela film 'Solidarity', and the Sanitarios Maracay short film series, comes 'No Volverán - The Venezuelan Revolution Now', an exciting feature length documentary about the Venezuelan Revolution. In this in-depth investigation the film makers take us on a journey through the fervor of the Presidential Elections in December 2006, traveling deep into the shanty towns (barrios), and to several factories under workers' control, to find out why there is a movement to over-through Capitalism, what Socialism of the 21st Century is, and how it is changing people's lives. Community activists show us around their neighborhoods in the barrios to see first hand how difficult life is for the urban poor. Residents tell us how they used to struggle daily against poverty, crime and police brutality. They felt abandoned by previous governments, and when they tried to organise they were often oppressed. But life here has clearly changed. We meet Guadalupe, a member of staff at a new community centre, which was formally a police station and a place of repression. She tells us the amazing story of how the surrounding residents joined together, evicted the police force and occupied the building. After a long struggle, with the help of a revolutionary city mayor, they took it over and converted it into their own radio station with education and training facilities. Oscar Negrin along with other activists explain to us how much of this is now possible due to a new revolutionary form of participatory democracy; that of the Communal Councils.
The film makers also meet the international delegation of Hands Off Venezuela members, and travel with them to several factories including Sanitarios Maracay, a ceramics factory under workers' control. It is here where we embark on a touching journey with these brave workers in their campaign for full nationalisation under workers' control. We attend one of their workers' assemblies, where we learn more about how the workers take decisions, and how they organise collectively. We also learn more about how they were exploited by the old boss, a supporter of the 2002 coup, who is trying to sabotage their attempt to run the factory on their own. Their campaign for full nationalisation is the first of its kind in Venezuela, and requires concerted effort. We follow the workers to Caracas for a dramatic demonstration that marches to parliament and the presidential palace. As it rolls through the smoky streets of Caracas, the demonstration is met by applause from surrounding street-side workers excited by the militancy of the march. It culminates at parliament with a huge crowd of cheering workers that forces members of parliament out to meet Sanitarios Maracay to discuss their campaign. An amazing spectacle.
Following these workers and others, the film takes us on a journey through the politics of past and present. Francisco Rivero, National Director of Ideology of the Movement for Direct Democracy, takes us through the different stages of the revolution, and explains that Socialism of the 21st century is a complete break from many of the previous so-called socialist ideologies. These were run from above by bureaucracies. Socialism of the 21st century is democratic socialism, where political power is transferred to the common people. Here ordinary working people must take over the running of society.
Also covering alternative community run media like CatiaTV, and Radio Negro Primero, through to the social projects called Missions, the film helps us to explain why Venezuela has become a symbol of liberation for those in struggle around the world.
With fantastic footage of the elections, demonstrations and the people and streets of Caracas, the revolution is brought to our screens in a rich tapestry of action and interview that gives us real insight into the process taking place, and the challenges that lie ahead. A must see!
Click here to purchase this DVD.
*** $10 from the sale of each DVD will be donated to FRETECO ***
(The Revolutionary Front of Workers in Factories Occupied and under Co-management)