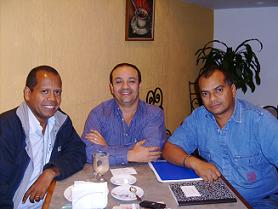 Jesus Pino (left), together with two comrades of the Revolutionary Front of Steel Workers (SIDOR)
Come and hear Jesus Pino from the Revolutionary Front of Steel Workers (SIDOR). He is speaking at the Hands Off Venezuela National Conference in London in less than two week's time. He will speak about the struggle to nationalise the steel industry and the fight for workers' control in Venezuela. The nationalisation of SIDOR earlier this year was a direct outcome of a militant struggle by the steel workers themselves. This shows the direction that the Venezuelan Revolution is taking and highlights the need to complete the tasks of expropriating the Oligarchy.
Other speakers include John McDonnell MP, Matt Wrack (FBU), Bob Crow (RMT), Jeremy Dear (NUJ), Alan Woods (author of 'the Venezuelan Revolution'), Derek Wall (spokesperson for the Green Party), Samuel Moncada (the Venezuelan Ambassador), and others. There will also be workshops on Green Venezuela, Socialism of 21st century, workers' control, and solidarity with the Latin American Revolution.
The Conference will be held on 22 November in the Main Lecture Theatre, Clore Management Centre, Birkbeck College, Torrington Sq., London WC1 (nearest tubes: Goodge Street & Russell Square). Come and discuss solidarity with the Venezuelan Revolution! Everyone Welcome! To register contact us at This email address is being protected from spambots. You need JavaScript enabled to view it.
More information, leaflets and application form here.