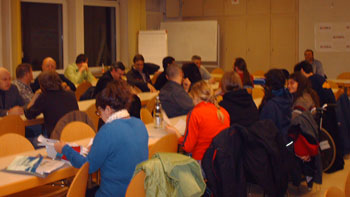 "If you take into account the current political juncture of the country this was quite a sizeable meeting" confessed Tun one of the organisers of the first ever conference on the Bolivarian Revolution to take place in the Grand Duchy of Luxemburg, a fiscal and financial paradise stuck between the Belgian, German and French borders. Some 50 people turned up last Tuesday in the 'Casino Syndical', the headquarters of the rail and transport workers' union.
The event was organised by two left groups, "Goosch.lu" and "Queesch" whom we wish to thank again for this initiative. Goosch.lu is the only left electronic weekly in the Duchy of the "déi Lénk - la Gauche", a political movement, left of the social democracy. "Queesch", which means something like "the wrong way", is the paper of a group of leftwing "alternative" youth. Present also were two members of the embassy of Venezuela.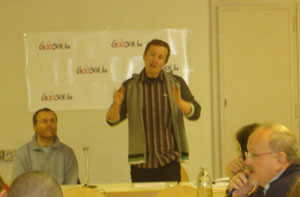 Exceptionally, and for the sake of the speaker, the meeting was held in French and not in 'Lëtzebuerger', the national language of Germanic origin.
Erik Demeester from the Hands Off Venezuela campaign in Belgium gave a socialist analysis of the unfolding revolution in Latin America and Venezuela. The many questions following the lead-off were an indication of the great interest raised amongst the participants who were mainly left wing activists of the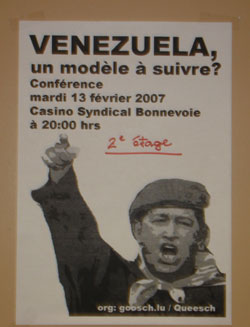 trade union movement, some young people and Latin American workers.
The subjects discussed ranged from the role of religion and the Catholic Church, to the question of dual power, how to dismantle the bourgeois state, freedom of the press, nationalisations, the fall of the statue of Columbus in Caracas, anti-imperialism, 'caudillismo' and "socialism of the 21st century". These were undoubtedly subjects that rarely have been so openly discussed in the premises of a trade union in Luxemburg.
There is no better measure of the success of this activity than the decision at the end of the meeting - late at night - to establish a solidarity group with the Bolivarian Revolution in Luxemburg. 'Hands off Venezuela' promised them all the necessary assistance in this work.