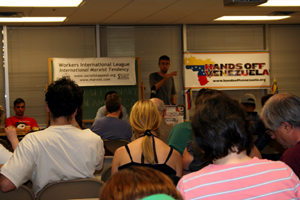 Jorge Martin continued his North American tour with a public meeting on May 17 at the Central Labor Union Council in Minneapolis, MN.  Some 70 people turned up for the event, with several trade unionists in attendance. Speaking on "Revolutionary Latin America," Jorge was joined by Yasmin Tovar, a local Venezuela solidarity activist; August Nimtz, Professor at the University of Minnesota and expert on Cuba; and Gerardo Cajamarca, an exiled Colombian trade unionist now working with the United Steel Workers.
Yasmin's opening comments on the importance of building solidarity with the Bolivarian revolution were enthusastically received, as were Professor Nimtz' remarks on the importance of the Cuban revolution in the broader context of the Latin American revolution. Gerardo, after explaning the political, military and paramilitary strategy of imposing a free trade agreement on Colombia, explained the need to go after the source of the problem right here in the U.S.: capitalism.
Jorge Martin then gave an overview of the revolutionary process in Venezuela, which was also enthusiastically received. He explained how the main contradictions still facing the revolution are yet to be fully addressed: the question of the state, the economy, and the revolutionary leadership. He explained how the revival of the U.S. 4th Fleet, which was disbanded in 1950, responsible for patrolling Latin America and the Caribbean, is a clear example of the clear and present threat to the Latin American revolution. One important way to fight against U.S. intervention is to join Hands Off Venezuela. In the Twin Cities, please contact us for more information at This email address is being protected from spambots. You need JavaScript enabled to view it..
Yasmin Tovar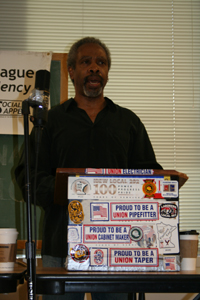 August Nimtz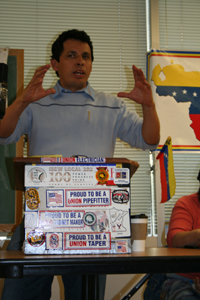 Gerardo Cajamarca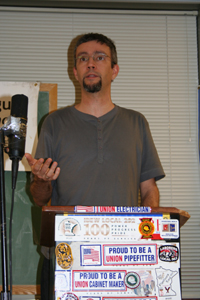 Jorge Martin
Special thanks to Equal Exchange for their continuing support of these events and for their as-always outstanding fair-trade coffee!
{google}1814746611668484328{/google}