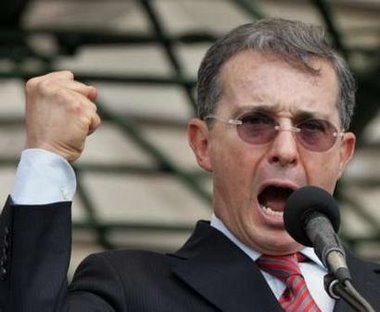 The Hands off Venezuela campaign notes with concern the recent allegations by the Colombian government of Alvaro Uribe about the presence of members and camps of the FARC and ELN guerrilla organisations within Venezuelan territory.

This allegations were made at a meeting of the Organisation of American States, but none of the alleged proof for this stands any serious scrutiny. We note that some of the alleged proof for this claims that the Venezuelan government is harbouring and supporting organisations which the US considers as "terrorist" come from the laptop of FARC leader Raul Reyes. This laptop was obtained by the Colombian army during an incursion into Ecuadorean territory, violating its national sovereignty. Also the Interpol at the time stated that no proper forensic procedures were followed in dealing with the laptop and therefore files could have been changed after the laptop was seized by the Colombian army.

Other alleged evidence presented by the Colombian government is based on satellite images and pictures with no supporting evidence of where they are taken.

This "proof" is as flimsy as the "proof" of the presence of Weapons of Mass Destruction which was used to justify the invasion of Iraq.

We note that these claims are made against the background of increased military presence by the US in Colombia, the recent deployment of US military forces in Costa Rica, US support for the coup and the illegitimate government in Honduras, violation of Venezuelan airspace by US aircraft based in the Dutch colony of Curaçao, the reactivation of the US Navy's Fourth Fleet and constant statements by US officials against the democratically elected government of Venezuela.

We note with concern that these allegations could serve to justify military action against the Bolivarian Republic of Venezuela.

We therefore express our continued support for the Bolivarian revolution and the people of Venezuela. We express our solidarity with the people of Colombia.

We condemn the campaign of lies, slander and provocations on the part of the Colombian government.

We reject imperialist interference on the part of the US administration in Latin America, by sponsoring coups, installing military bases and conducting military exercises.

We demand that the democratic will of the Venezuelan people, who have elected president Hugo Chavez and supported the Bolivarian revolution in numerous occasions, should be respected.