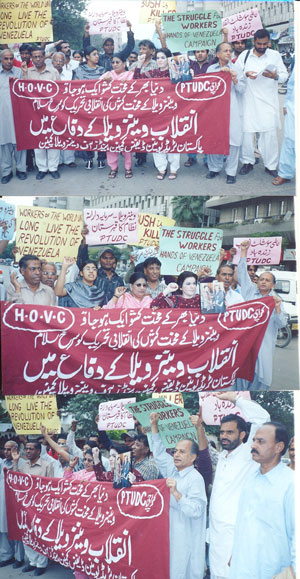 Hands off Venezuela held a demonstration in front of the Karachi Press Club on December 1 in solidarity with the workers of Venezuela.
Demonstrators held placards on which slogans in solidarity with Venezuela were written. They chanted slogans in support of President Hugo Chavez and for taking the revolution towards its end; socialism. They also raised slogans against imperialism and its attempts to sabotage the elections.
Comrade Ali Yawar addressed the demonstrators and said that American imperialism can only be defeated if all the workers of the world unite against it. He explained the brutal policies of the IMF and the World Bank and how they are exploiting the workers of the world.
Other speakers who addressed the demonstration were Manzoor Razi, Sheikh Majeed, Iqbal Mehar, Hameeda Ghangro from Stell Mills, Dr. Beemish Shoro, Ahmad Warsi from Post Office union, Manzoor Badauni, Raheel Iqbal and comrade Liaqat.
All speakers praised the social policies in Venezuela, where great advancements have been made in education and in the health sector. They also saluted the workers of Venezuela who have occupied various factories and are running them under the control of workers' committees.
Among other participants were members of the Shoe Makers' Association, the Karachi Port Trust, Pakistan Steel Mills, the Jammu-Kashmir National Students' Federation (Karachi branch) and members of Youth for International Socialism were also present.