Yesterday, Monday, December 5, a group of Hands off Venezuela activists, supporters and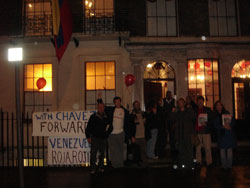 friends of the Venezuelan revolution came together at the doors of the Bolivar Hall, in central London, to celebrate the victory of the candidate of the Bolivarian revolution, Hugo Chávez Frías.
Hugo Chávez, who, according to the latest CNE bulletin (National Electoral Committee), has won with 62.57% (6,857,485 votes), came out onto the "People's Balcony" at the Miraflores Palace, in Caracas, soon after the first results were released and spoke to a crowd of hundreds of thousands of Bolivarians, to whom he said; "the people have not voted for Chávez, but for a project with a name: Bolivarian socialism" and stressed that the new phase that the revolution was entering would see the building of a new State on the basis of a "battle against bureaucratism and corruption".
In London, Hands off Venezuela activists and supporters adorned the Bolivar Hall entrance with banners celebrating this historic victory for the revolution and encouraging the president to decisively move forward and complete the revolution. "Venezuela Roja, Rojita", "With Chavez Forwards!" or "Venezuela p'alante with Chavez" could be read on the banners and people enthusiastically chanted "uh, ah, Chavez no se va" or "Alerta, alerta, que camina la espada de Bolivar por America Latina".
After an hour of chanting, clapping and laughing on the street, the group was invited to come in and celebrate with the Bolivar Hall staff, who welcomed them with rum, champagne and beer. One of the workers at Bolivar Hall made a toast to the health of President Chavez, the Bolivarian revolution and international socialism, to which everybody responded cheerfully by rising their glasses.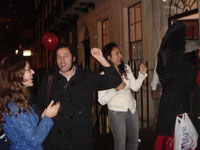 The mood was great. Everybody was happy, cheerful and delighted with this triumph of the Venezuelan masses in their struggle against the reactionary oligarchy and imperialism. However, people were also aware of the dangers that a vacillating attitude on the part of Chavez in taking the practical measures that would guarantee the completion of the revolution, secure its achievements and lay the basis for their improvement, may bring in the future.