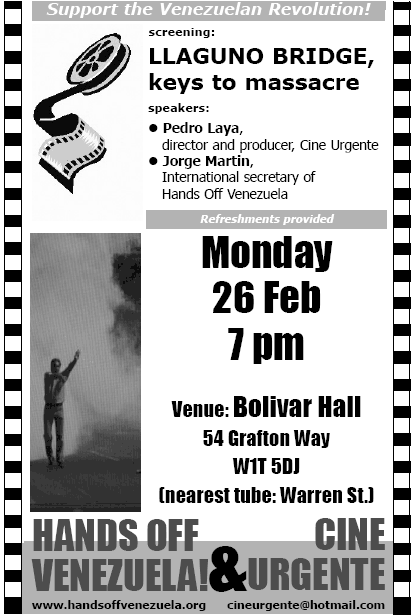 This week marks the anniversary of the events known as the "Caracazo", where the government of President Carlos Andrés Pérez called on the army to put down a mass uprising.
According to the government, "only" 276 people died in the attempt to "restore order". Soon afterwards, mass graves were discovered. It is now recognised that at least 3,000 people were killed, though some put the figure as high as 10,000. This event sparked off what became known later as the Bolivarian Revolution led by Hugo Chávez.
Chávez himself was elected as president in 1998. However, on April 11, 2002, Chávez was overthrown by a military coup. This coup was organized by the Venezuelan oligarchy and backed by American imperialism. Fortunately, this attempted counter-revolution was defeated by the spontaneous movement of the masses.
On the first day of the coup, a mass oppositionist rally against Chávez had been called at the headquarters of the national oil company, PDVSA. The oppositionist leaders decided to march on the Presidential Palace. Soon afterwards, all the private TV channels in Venezuela were broadcasting images of Chávez supporters shooting from Llaguno Bridge into an unarmed opposition demonstration. These images were used as a pretext to launch the coup.
The imperialists, including the British government, welcomed the coup "to restore the democratic government". In fact, the new president installed briefly by the coup, Pedro Carmona Estanga, suspended the constitution and dissolved every democratic institution in the country.
Only later did the truth come out. The killing at Puente Llaguno had been carefully planned by the coup plotters in order to justify (before international public opinion) their actions. They had organized these murders in advance. Only afterwards was the role of the private media corporations exposed.
An astonishing film documentary has been reconstructed about these amazing events. "PUENTE LLAGUNO: KEYS OF A MASSACRE" is a must-see, in-depth analysis of that day and the role of the private media in the class struggle in Venezuela.
Today, due to their role in the coup, the Bolivarian government has decided not to renew the RCTV channel's broadcasting license. This has created an international controversy.
This documentary puts everything in context.
Come and see the truth!
Defend the Venezuelan Revolution!
Download the PDF file of the flyer
Screening:
Llaguno Bridge, keys to massacre
Speakers:
Pedro Laya, director and producer, Cine Urgente
Jorge Martin, International secretary of Hands Off Venezuela
Refreshments provided
Monday, 26 Feb, 7 pm
Venue: Bolivar Hall
54 Grafton Way
W1T 5DJ
(nearest tube: Warren St.)
HANDS OFF VENEZUELA! And Cine Urgente
This email address is being protected from spambots. You need JavaScript enabled to view it.