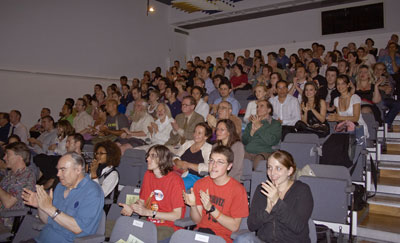 The first showing of the new film No Volveran attracted a large number of people. On Wednesday, 20 July, 120 people gathered at the Bolivar Hall in London to watch the new documentary by Will Roche and Melanie MacDonald (see further details here). The first screening of the new documentary was a great success and another step forward for the solidarity movement.
The film comes at crucial point in the Venezuelan Revolution. The setting up of a new United Socialist Party, the decision to nationalise the electricity and telecommunications industry and the non-renewal of the license of RCTV all set the scene for what Chavez calls the "socialist phase" of the revolution. This new phase has been met with a renewed offensive from mainstream media against the government of Venezuela. Although recorded in December, the documentary deals with most of the lies told in the last six months. The focus of the documentary is not on the many improvements in the living conditions of the millions of poor Venezuelans but on how to move forward, on how to consolidate these gains and make sure the oligarchy doesn't make a come-back. It gives its audience an insight into the dangers and opportunities that face the Venezuelan people in this new phase of their revolution.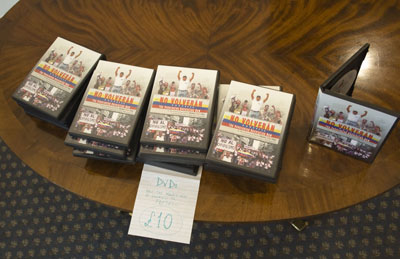 The audience at the screening was also very positive towards the film. Afterwards the film makers received many positive comments. Two students from Venezuela expressed their gratitude at the fact that people outside Venezuela were participating in the process. A visitor from Russia wondered if there was going to be a Russian translation. One person asked about the dangers of a military counter-revolution.
A member of the London Hands Off Venezuela campaign made an appeal for money for the workers of Sanitarios Maracay who were interviewed in the film, and over £200 was collected. Several people promised to turn up to the next Hands Off Venezuela meeting in London to continue building the solidarity movement.
The screening was a promising beginning for the first documentary produced by Hands Off Venezuela activists. It is a step forward for the solidarity campaign and the film will now be distributed all over the world and a Spanish version is already under way.
Purchase the DVD at the Hands Off Venezuela shop. Please note that we are working on a second shop based in the UK.