Dozens of activists came out in London on October 31 to protest against former Colombian president Alvaro Uribe speaking at a meeting in Senate House at the University of London.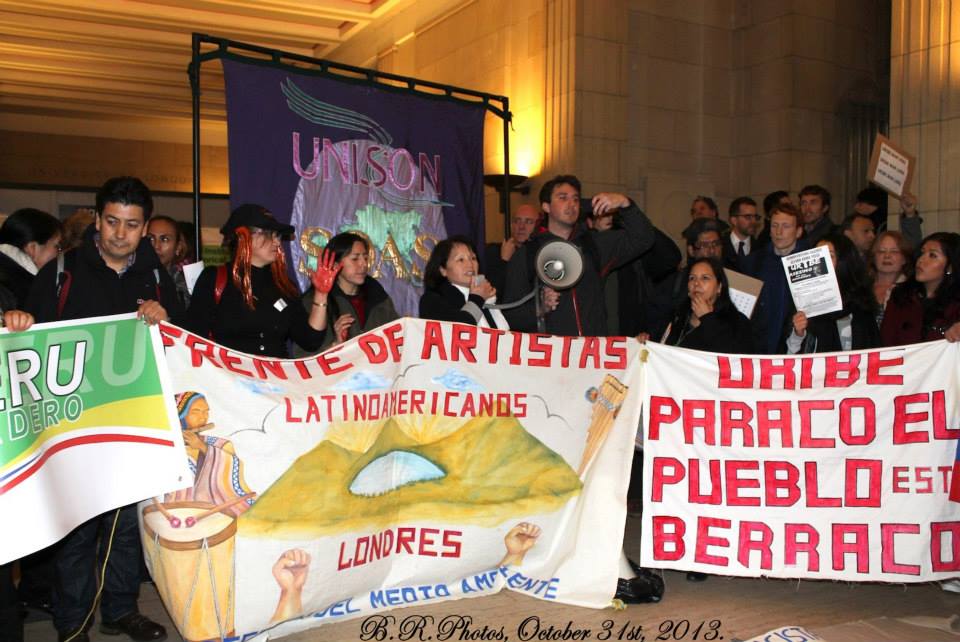 The organisers of the protest, a series of Latin American solidarity campaigns, argued against the invitation to Uribe to speak on the Colombian peace process. Their statement said:
Alvaro Uribe is currently under investigation in Colombia for sponsoring paramilitary death squads.

According to the internationally renowned Colombian human rights defender Father Javier Giraldo, Alvaro Uribe 'orchestrated the coordination between the Army and the paramilitary groups that resulted in 14,000 extrajudicial executions during his term of office.'

These extrajudicial executions include around 3000 'false positives', cases in which civilians (mainly rural peasants) were murdered by the Colombian army then dressed in military fatigues and presented as guerrillas fallen in combat

During Uribe's time in office, state security services coordinated the systematic political persecution, harassment assassination of anyone deemed to be an opponent of the government: Supreme Court judges, opposition politicians, trade unionists, human rights defenders, community leaders, students, academics, indigenous and Afro-descendent leaders.

The Uribe administration also included the 'parapolitica' scandal in which over one third of Colombia's members of congress elected in 2006 ended up behind bars for their links to paramilitary groups. All belonged to Uribe's government coalition.

The sponsorship of this event by an institute of higher education is particularly inappropriate. In the mid-1990s, whilst Uribe was governor of Antioquia, 99 educators were assassinated. Educators continued to be a major target for assassination throughout his presidency.
The mood at the protest was angry, and the demonstrators made sure their voices were heard inside the meeting hall where Uribe was speaking as can be seen in this VIDEO
Police and security intervened to drag some of the protestors away as can be seen in this short Alborada Film:
Asesino! London Protests Colombia's Alvaro Uribe from Alborada Films on Vimeo.
Here's the report of the protest in the London Student magazine, and here is a picture gallery
The protest had been called by PLATAFORMA 12 DE OCTUBRE with the support of: Movimiento Micaela Bastidas-UK, Marcha Patriótica-Británica, Polo Democrático-UK, Colombia Solidarity Campaign, Mesa Permanente por la Paz - Londres, MERU Verdadero, London México Group, Tawantinsuyu Nation, Enlace Mapuche Internacional, Independent Workers of Great Britain (IWGB), Hands Off Venezuela, PARCOE, with internationalist friends and independent individuals.