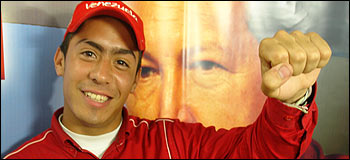 The Hands Off Venezuela campaign expresses its outrage at the assassination of Venezuelan member of the national assembly Robert Serra for the PSUV and his partner María Herrera. The way the assassination was carried out was particularly brutal. Robert Serra was found bound and gagged and had been stabbed over 50 times. The Minister of the Interior and Justice, Rodríguez Torres, said that according to early investigation results this had been an "intentional, well planned and meticulously executed homicide" and that the assassination was not a "chance event" but rather a "macabre assignment."
We note that Robert Serra had warned about a campaign of assassination of mid-level Bolivarian leaders. We note that these killings take place after revelations about terrorist plans organised by "student leader" Lorent Saleh which allegedly implicate former Colombian president Uribe.
We note that this would not be the first politically motivated killing in Venezuela. Countless leaders and activists of the workers, peasant, indigenous peoples and popular movement have been killed by hired guns of the oligarchy in the years since president Chavez was first elected in 1998. In too many of these cases, the crimes have gone unpunished and those responsible have never been tried, have left the country or escaped while on parole.
There was the case of Pedro Doria, land reform activist killed by the hired guns of the landowners in Zulia in 2002. There was the case of the state prosecutor Danilo Anderson, killed in 2004 with a bomb under his car, while he was attempting to prosecute those involved in the April 2002 coup. There was the case of the Aragua trade unionists Richard Gallardo, Luis Hernández y Carlos Requena, killed by the hired guns of the bosses in 2008. There was the case of indigenous Yupka chief Sabino Romero, killed in 2013 by the hired guns of the landowners. These cases are just a small number in a long list which also includes the recent killing of PSUV Caracas Libertador councillor Eliecer Otaiza in April this year.
We express our solidarity with the Bolivarian revolutionary movement in general and the PSUV in particular at the time of this tragic loss.
We reaffirm our commitment to build solidarity and defend the Bolivarian revolution from its many
enemies in Venezuela and abroad.
We demand that those responsible be brought to trial and punished.
We demand justice! Enough impunity! Solidarity with the Bolivarian revolution! Forward to socialism!