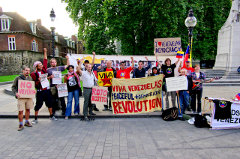 On Saturday September 18, some 40 people attended the London branch of Hands Off Venezuela's vibrant rally in solidarity with the Bolivarian Revolution. An international day of solidarity had been called by the Venezuelan branch of HOV and the Bolivarian People's Congress in light of the upcoming National Assembly elections.
In 2005 opposition parties did not contest the Assembly elections as they knew they were facing a massive defeat. This time they are looking to gain ground in elections to be held on September 26, so it is important for us to show the people of Venezuela that there is huge support around the world for their peaceful and democratic revolution.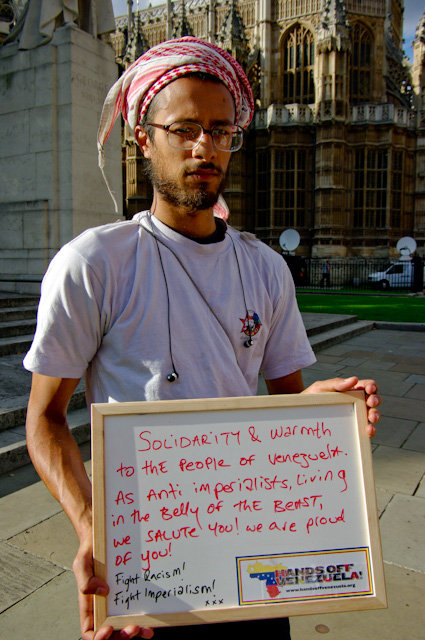 The rally was held in glorious sunshine outside the Houses of Parliament – the very heart of British imperialism, and was attended by a diverse range of people including students, workers, youth and political activists, as well as the wider Latin American community. The rally attracted a great deal of interest from the passing public, who were generally either under-informed or misinformed about the Venezuela process and hundreds of Hands Off Venezuela newsletters detailing the significance of the upcoming elections were distributed. Participants were encouraged to write messages of solidarity to the Venezuelan people, and have their photograph taken alongside the message (see photos). With speeches, music and even a cappella hip hop in honour of Venezuela, and a diverse crowd, the event was a resounding success.
Note to editors: High resolution images are freely available for wider publication. Contact This email address is being protected from spambots. You need JavaScript enabled to view it.
Join the Hands Off Venezuela Facebook page. facebook.com/hands.off.venezuela
Picture gallery