The Hands Off Venezuela Britain national conference 2011 was a success, with some fifty delegates packed into the room at London's ULU to hear speakers from Britain and Venezuela.
Passport issues meant that Venezuelan firefighter and trade unionist Julio Bañez got stuck in Madrid on his way to London, but he still managed to speak at the conference via a webcam! He began by thanking everyone for their solidarity with Venezuela, and denounced the recent opposition student protests and hunger strikes in Venezuela, whose real aim was to agitate the right wing. He then spoke of the issue of workers' control in Venezuela. Some occupations have been successful, some not, and some elements of the bureaucracy are part of the problem. This was seen in a recent march on the National Assembly, demanding an end to legal proceedings against workers involved in occupations. This is one of the contradictions of the Bolivarian revolution – help is officially offered in some quarters, then blocked in others. The struggle continues, but progress is being made.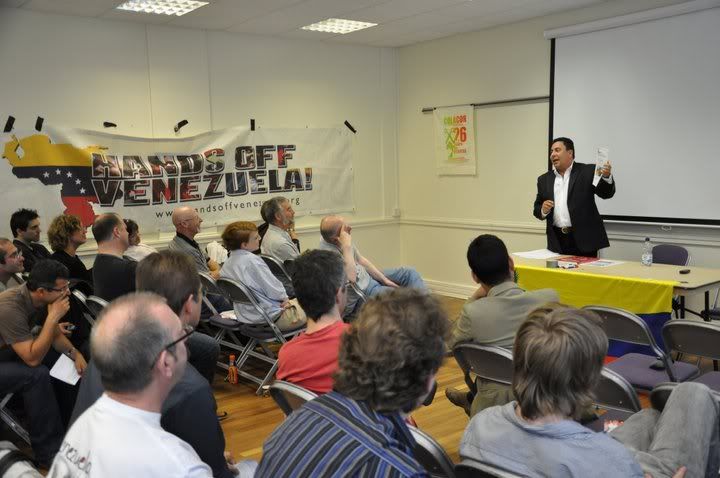 Venezuelan ambassador to the UK Samuel Moncada then spoke. He said that the Venezuelan process is an ongoing one, and no-one knows what the outcome will be. Sometimes mistakes are made, but what is undeniable is the participation of the people, and the fact that they are the driving force. Addressing the housing crisis, he said that some 2 million hectare of land have been nationalised by the Chávez government and large amounts of idle land in cities is also being expropriated. With presidential elections next year, inflation is an issue which the fascist opposition is keen to exploit, something that needs tackling. The US National Endowment for Democracy has given millions to the Venezuelan opposition, but the opposition is so corrupt that the NED has actually been asking for its money back as it doesn't know how it was spent!
Next to speak was Gabriela Quevedo from the Latin American Workers Association (LAWAS). She explained why the association was needed – there are some 113,500 Latinos in London, 186,500 in the UK, and 85% are employed. They are highly educated, often vastly overqualified for their jobs. Over 40% have experienced abuse in the workplace, and 11% work below the minimum wage, which is of course illegal. LAWAS helps workers unionise, organises collective action and raises awareness about workers' rights. Solidarity campaigns such as HOV link migrant struggles in the UK with the struggles in Latin America.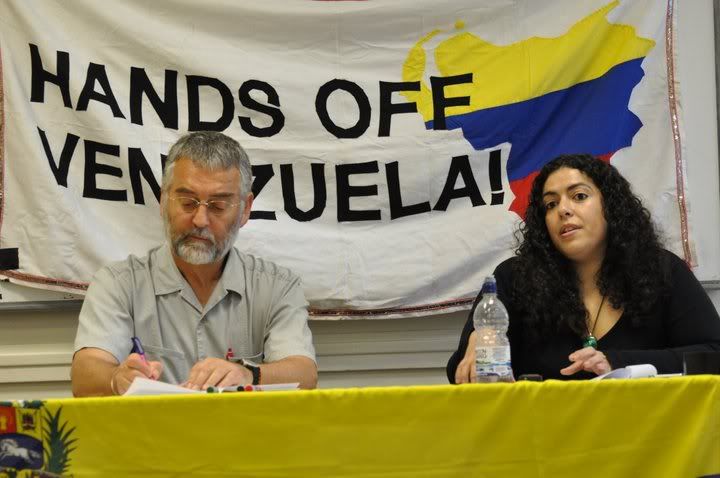 John McDonnell MP, HOV Honorary President, took time out from his busy schedule to speak. He spoke of the upcoming strike on 30th June, and the fears the ConDem government has of direct action. The UK movement could learn lessons on mobilisation from Venezuela, he said. There is a need to lift people's aspirations to see what could be. We need to bring this government down, he declared, but build a socialist alternative at the same time. What would be the point of removing the government and replacing it with New Labour? Venezuela is a shining example of what can be done with mass participation.
Following on from discussion about cuts in the UK, Amada Silva from the Golden Years Latin American day centre in Lambeth then spoke. The centre is a place for elderly Latinos in London to socialise and meet other people, but like so much in this country is under threat of closure after the council cut funding. Just another example of the cuts we have to fight against, and the link between the struggle in this country and the struggles in Latin America.
After a lively question an answer session, and votes on resolutions (see full list of resolutions passed here), most delegates then headed over to Baker Street to join in a picket against murderous former Colombian president Alvaro Uribe, who was speak at the London Business School. The picket was very noisy and well attended, and sent a clear message that Uribe will be held accountable for his crimes!
Picture Gallery: