25 April 2013
Hands Off Venezuela
The Hands Off Venezuela National Conference will be held in London on Saturday 4 May. Come to discuss the legacy of Hugo Chávez, the April 14 presidential election results and the challenges facing the Bolivarian revolution.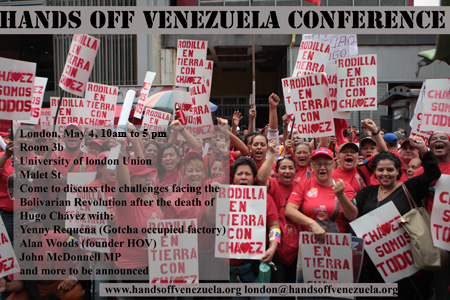 Saturday, May 4, 10 am to 5 pm, Room 3B, University of London Union, Malet Street, WC1E 7HY.
Speakers include: Yenny Cortez who is a leading activist of the Gotcha textile factory under workers' control in Aragua, a member of the Socialist United Party of Venezuela PSUV and a leading spokespwerson for the natiuonal movement for workers' control.
Alan Woods who is a founding member of the Hands Off Venezuela campaign who met president Chávez on several occasions and has written extensively on the Bolivarian revolution.
Others to be confirmed.
Entrance is FREE for members. Join on the day for £7.50 (£5 unwaged, no one turned away for lack offunds).
Facebook event: https://www.facebook.com/events/539057776145435/
You can REGISTER NOW to reserve a place using THIS FORM
Contact us:
Email:This email address is being protected from spambots. You need JavaScript enabled to view it.
Facebook:https://www.facebook.com/hands.off.venezuela
Twitter: http://twitter.com/HOVcampaign